A REAL
SHEPHERD'S PIE

MADE WITH TENDER LAMB, NOT SHEPHERDS!
TENDER LAMB WITH CREAMY MASHED SPUDS.
Lamb is a fantastic source of nutrients and also a meat you can be confident has not been intensively reared because sheep won't put up with it!
It's a fantastic source of selenium, which is vital for keeping our immune system working normally and as an added bonus helps our nails stay good and strong.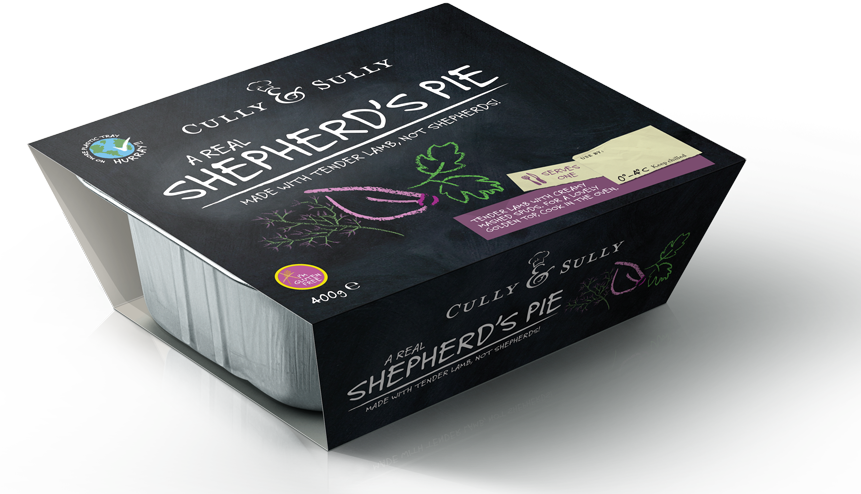 Serving Suggestion:
CULLY'S GARLIC BUTTER: Delicious on grilled meat or fish or for making garlic bread. Put 4 oz of soft butter in a bowl. Add a tablespoon of chopped parsley or chives and 2 cloves of garlic, crushed. Stir together well. Using some greaseproof paper, roll it up like a thick sausage and chill. Slice off discs as needed.
Story
Was this really the dish of the shepherds? Yes, probably as it's generally agreed that the dish was first created in the sheep rearing districts of North England and Scotland. But, when mincing machines were invented in the 1870s its popularity spread, making it an enduring classic – we continue the tradition!
Ingredients:
Potato (38%), Lamb (27%), Onion, Water, Butter (Milk), Single Cream (Milk), Cornflour, Double Cream (Milk), Tomato Puree, Lemon Juice, Roast Lamb Stock (Lamb Broth, Yeast Extract, Sugar, Cornstarch, Salt, Concentrated Onion Juice, Rosemary Oil, Thyme Oil), Salt, Garlic Puree, Vegetable Stock (Water, Vegetables (21%) (Onion, Potato, Leek, Celery), Salt, Yeast Extract, Carrot Concentrate, Sugar, Sunflower Oil, Lemon Juice Concentrate), Parsley, Black Pepper, White Pepper, Thyme.
Sully's cooking instructions:
For best results we strongly recommend cooking in the oven:
1. Cut film from top of container.
2. Place in a pre-heated oven at 200c (gas mark 6) for approx. 30 minutes.
3. I think this is even more delicious with Ballymaloe Country Relish or Cully's garlic butter (but careful who you kiss!)
or if you're in a hurry you can microwave:
1. Cut film from top of container. 
2. Heat for approximately 5 minutes at 800w and stand for 1 minute.
We do not recommend freezing but if you do, use within one month and defrost fully before cooking.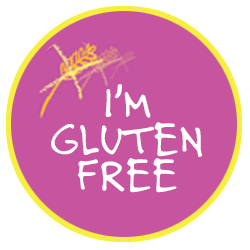 Allergy Advice
Gluten-free.
Contains milk.
Celery.
May Contain Bones.
May Contain Traces of Nuts.
Not suitable for vegetarians.
Nutrition
per 100g
Energy kJ 534
Energy Kcal 128
Fat 7.5
Of which saturates 4.6
Carbohydrate 6.2
Of which sugars 1.0
Fibre 1.5
Protein 8.2
Salt 0.48
Per Pack
per 400g Pack
Energy kJ 2135
Energy Kcal 512
Fat 30
Of which saturates 18.5
Carbohydrate 24.8
Of which sugars 4.1
Fibre 6.1
Protein 32.7
Salt 1.91