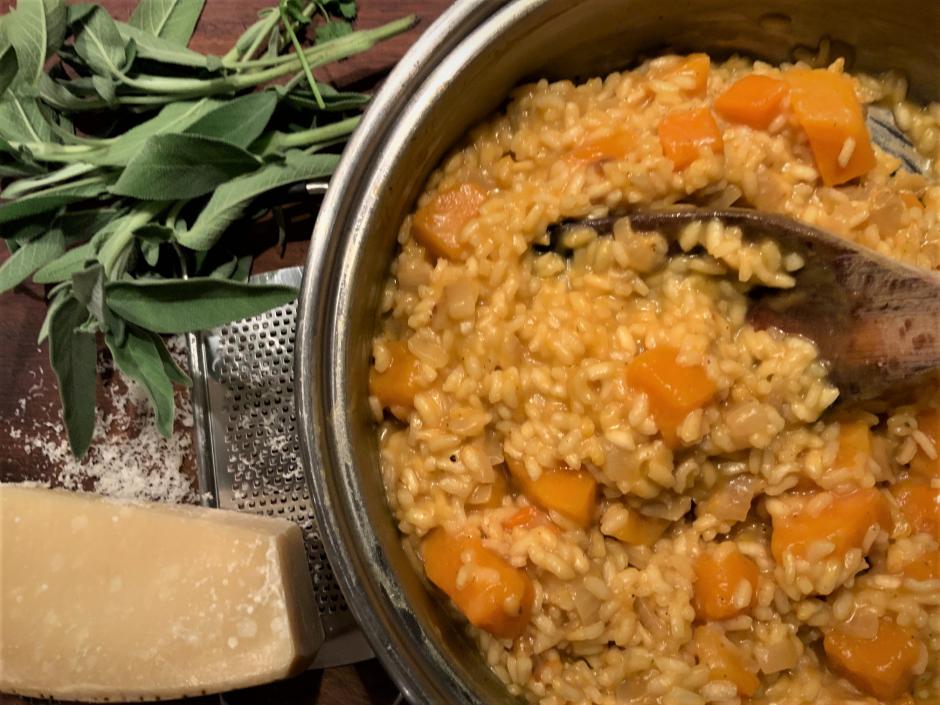 This is quite a simple risotto recipe with a little twist for fun.
Ingredients:
1 butternut squash (1KG), peeled de-seeded and diced into 1.5-2 cm chunks
1200 ml stock (chicken or veg)
30g butter
2 tbsps extra virgin olive oil
1 large onion, chopped
1 clove of garlic, crushed
A good pinch of salt
A good twist of pepper
300g good risotto rice
A glug of white wine
30g butter and 2 tbsps extra virgin olive oil again to fry the sage leaves
Sage leaves butter and Coolea or Parmesan  cheese to finish
Method:
Put the butternut squash in a saucepan with the stock and simmer for 15 mins until the squash is tender. Remove 1/2 the cooked squash and set aside for later. Blend the rest of the squash with the stock and keep warm to use in the risotto. While the squash is simmering in the stock, sweat the onion, salt and pepper in the butter and oil in a low wide pan on a medium heat. When the onions are soft add the garlic and cook for 5 mins more. Then add the rice and stir around in the butter and onions for another minute or two then deglaze with the wine. When the wine is absorbed start adding the blended stock and squash one ladle at a time stirring regularly until its is all absorbed and the rice is just cooked. Add the cooked squash that was set aside from earlier with the last ladle of stock. Fry 3-5 sage leaves per person in a pan with with the extra oil and butter. Serve in warm bowls with sage butter spooned over each dish grated Coolea or Parmesan cheese.