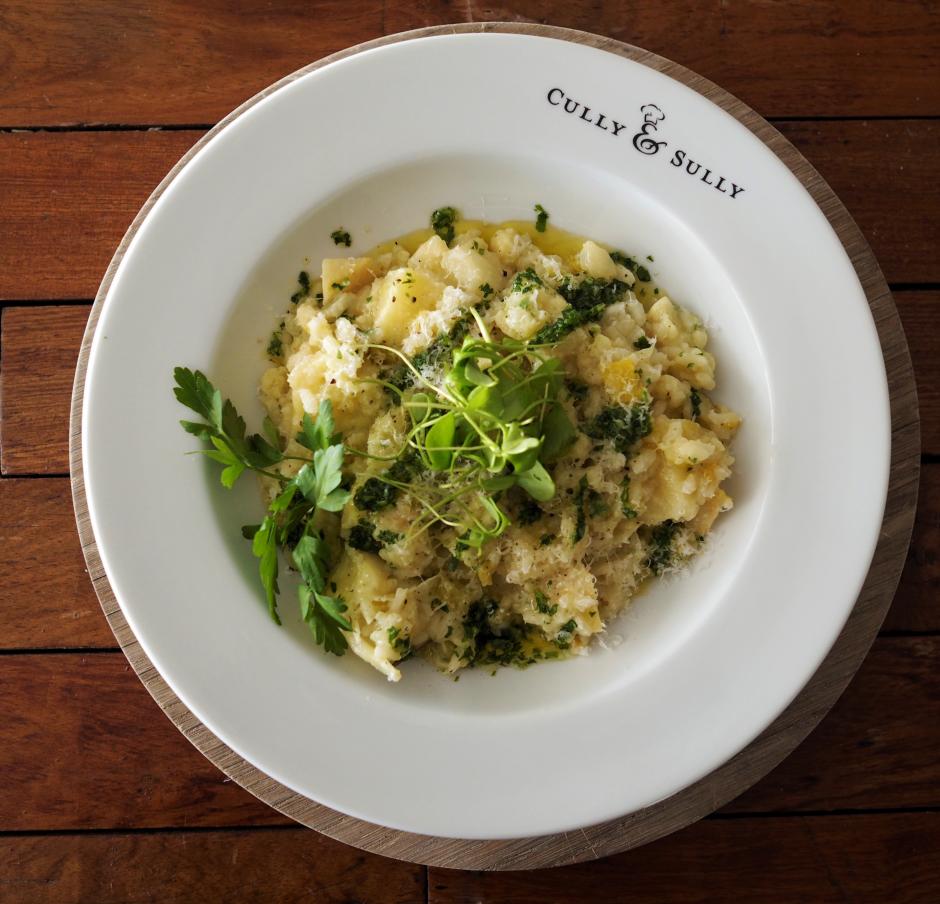 Ingredients:

25g butter
1 Tbsp extra virgin olive oil.
1 large clove or garlic crushed.
1 medium onion diced coarsely.
1 large stick of celery (50g approximately) sliced.
75g white of leek sliced.
A good pinch of salt and twist of pepper
200g arborio rice.4
75ml white wine.

1/8 of a whole  celeriac (200g approximately) peeled and chopped into big chunks 1.5cm approximately.
1/2 of a large parsnip (200g approximately) peeled and chopped into big  wedges 1.5cm approximately.
150g cauliflower florets.
A sprig of each thyme and rosemary.
750ml of light veg stock.

25g Parmesan cheese finely grated.
150ml light veg stock

20g chopped parsley.
60ml extra virgin olive oil


Method:
Pre heat oven to 160ºCMelt the butter with the olive oil in a largish pot (3 litre volume).
Add the garlic, onion, celery and leek. Season with salt and pepper, cover with a lid and gently sweat over a medium heat until soft but not coloured (about 15 minutes). When the veg is soft add the rice and stir around until all the grains are coated and mixed with the veg. Add the wine and cook uncovered until the wine is absorbed.
While the onion, celery, leek mix is sweating add all the celeriac, parsnip, cauliflower thyme, rosemary and 750ml veg stock to a separate pot. Place on a high heat, bring up to a boil, then turn it down to  gentle simmer and cook for 8 minutes. Then add the rice to the pot once the wine is absorbed.
Mix well and place in the pre heated oven and cook for 12 minutes.
While the risotto is in the oven mix the 60g of olive oil with 20g of chopped parsley. Remove the risotto from the oven and fold in the Parmesan and extra 150ml stock and stir in about half the oil and parsley mix. Taste and adjust seasoning.
To serve spoon risotto into a bowl, drizzle with a little more of the parsley oil and grate on a little more Parmesan.